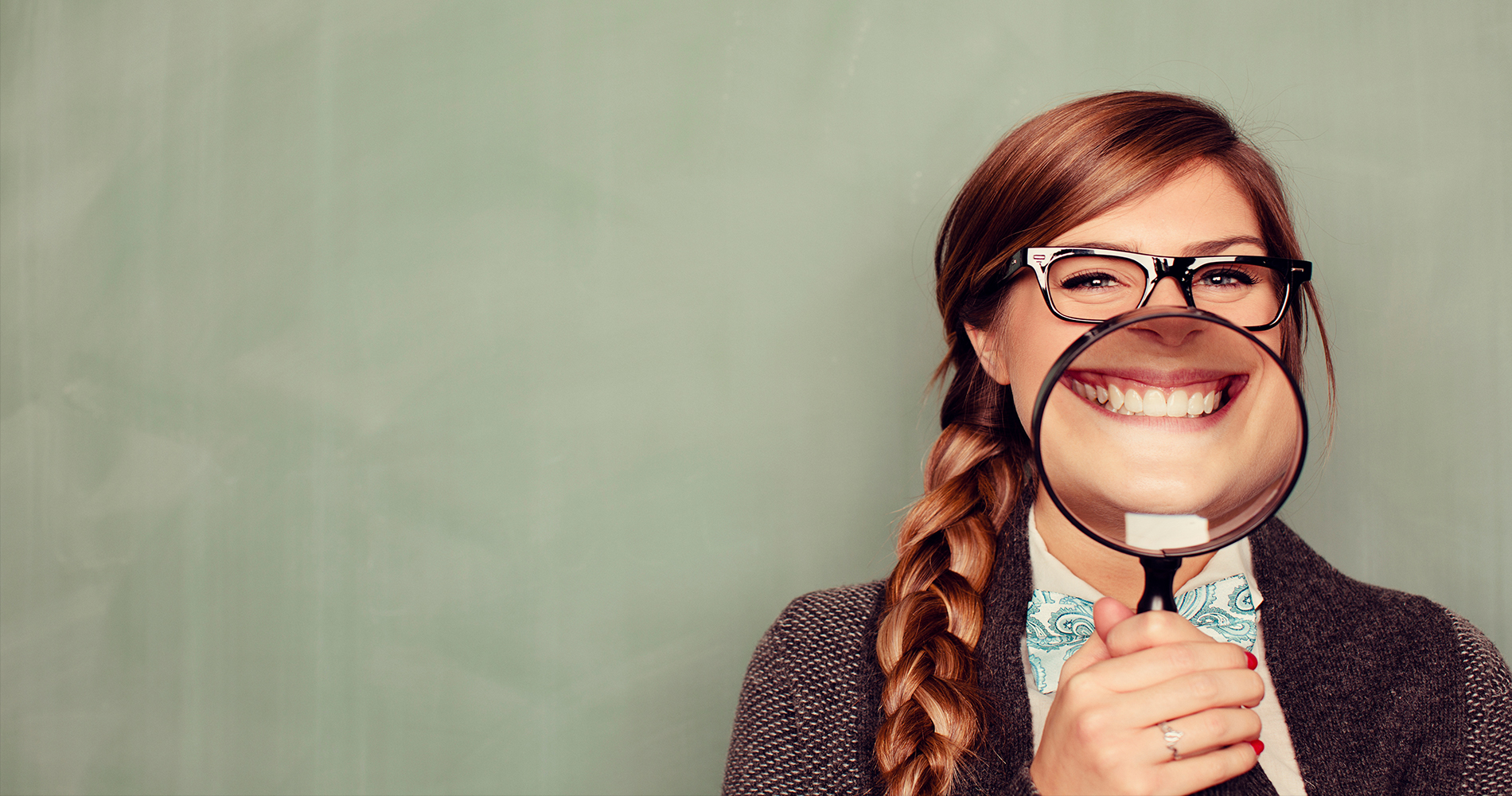 Porcelain veneers, mouth trays, whitening at the dentist, toothpastes and whitening strips.. The market for products that make the teeth whiter keeps getting bigger, with more methods than ever. Brilliant Smile Sweden helps you navigate the tooth whitening jungle and explains the pros and cons of the different methods.

Porcelain veneers is the most advanced procedure for getting white teeth and also the most expensive one. It is also the only method that not only corrects the color of the tooth, but also its shape and position. In short, the tooth front is grinded down and a pocelain facade (a ceramic surface layer) is attached to the front of the tooth, covering the entire tooth surface. You can also use plastic veneers, but porcelain lasts longer. Veneers can correct gaps, uneven tooth shape, cracks, etc. and the result is often the classic, straight "Hollywood smile".

Price range: $ $ $ $ $

Pros
+ Porcelain veneers lasts up to 20 years
+ Total smile makeover, both in color and shape
+ Particularly good option for people with teeth that are damaged or are difficult to whiten

Cons
- Since porcelain is not at all translucent, teeth often get an unnatural appearance
- The treatment is costly and may need to be remade after 10-20 years
- The procedure is extensive and cannot be reversed
---

In-office whitening with light is carried out by trained professionals, often using a gel with high concentration of hydrogen peroxide. The gel is activated by an efficient light source. When hydrogen peroxide oxidizes, free oxygen radicals are released and they break down organic material (residues from coffee, tobacco, foods etc.) in the enamel. The activation means that the light adds energy, making the hydrogen peroxide oxidize at a quicker rate. In other words, the light itself does not whiten the teeth, it only shortens the time of the treatment.

Price range: $ $ $ $

Pros
+ Good results can be required in a short time, a treatment of about 1-2 hrs is usually sufficient
+ Safe and secure with trained staff setting the diagnosis and monitoring the process
+ Results lasts at least one year


– Compared to at-home or DIY treatments, in-office whitening is more expensive
– Treatment may need to be renewed after 1-5 years
---
Whitening with mouth tray often starts at the dentist, who makes an impression of your teeth and creates a customized mouth tray, formed after your teeth. With your tray, you also get whitening gel to put in it, and you perform the treatment at home. Those who want to sleep with the tray get carbamide peroxide gel, since it releases hydrogen peroxide over a longer time period. If you only want to whiten your teeth in short intervals (1-2 hours/day), then a hydrogen peroxide gel is more suitable. Normally, a home whitening treatment goes on for 1 week, but can be prolonged if necessary.

Price range: $ $ $

Pros
+ Cost effective, because you keep the trays and only need to buy more gel when you want to repeat the treatment
+ Good access to difficult spots between and on the back of the teeth
+ Results lasts at least one year


- It takes longer to achieve the desired result
- You need to avoid discoloring substances during the entire treatment period, plus three days. That means, no coffee for at least 10 days!
- Some find it uncomfortable and inconvenient to wear the trays for hours
---
Whitening strips is a simplified version of home whitening, and is very popular in the American market. The product is a tape-like plastic strip, prepped with a layer of hydrogen peroxide gel on one side. You attach the strips directly onto the teeth, and keep it there for 1-2 hours. Normally, whitening strips are sold in packages that will last you for 2 weeks of treatment for both the upper- and lower jaw. It's important to mention that the safety and quality of foreign brands of whitening strips that can be found online varies greatly. As a rule, you should avoid purchasing teeth whitening products from unknown brands online, the best thing you can do is to consult your dentist.



Pros
+ Relatively inexpensive alternative, no custom-made trays needed
+ Simple and convenient to use, just put it on and toss when finished
+ The plastic film is transparent and discreet and can be used in the office, on the go, or while chilling at home on the couch

Cons
- There are very many shady unknown brands on the market, predominantly online, where some are totally ineffective, some give spotty results and some can even be harmful
- The gel will not reach stains between and behind the teeth as well as with whitening trays
- It takes longer to achieve the desired result
---
Peroxide-free whitening has gained a lot of momentum in the past few years, partly as a result of EU regulation preventing over-the-counter sales of hydrogen peroxide whitening products. Peroxide-free whitening usually contains ingredients that removes plaque, most commonly sodium bicarbonate (baking soda). The problem with these products is that they don't have the capacity to whiten teeth with deep discolorations, as you need an oxidizing substance to remove discoloration inside the enamel. Theoretically, peroxide-free products could contain alternative oxidizing substances instead of hydrogen peroxide, but it's highly unlikely that such an alternative substance would be a better, safer or more suitable for tooth whitening.

Pros
+ Usually cheap in comparison to hydrogen peroxide whitening treatments
+ Available to buy over the counter and online
+ Removes superficial discoloration, plaque and dirt

Cons
- Does not remove deep discoloration that has been packed into the enamel
- Expensive compared to products with equivalent results, such as toothpaste etc. (see below)
---
Whitening toothpaste & mouthwash can be found in pretty much any convenient store these days, but many wonder if they give any noticeable results. Since oral care products can't, and shouldn't, contain hydrogen peroxide, they also can't remove deep discoloration inside the tooth. Even if a toothpaste theoretically could contain hydrogen peroxide, it still wouldn't work because the exposure time would be way to short to give any effect. What toothpaste and mouthwash can do is removing surface stains, and prevent future discoloration.

Pros
+ Cheapest of all mentioned categories
+ Prevents future discoloration
+ Removes superficial discoloration, plaque and dirt
+ Available to buy anywhere

Cons
- Some toothpastes contain harmful abrasives, which is not safe to use on a daily basis
- Can't remove deep discoloration that has been packed into the enamel
- Short-term results




There are no comments to this entry.