PRODUCT SERIES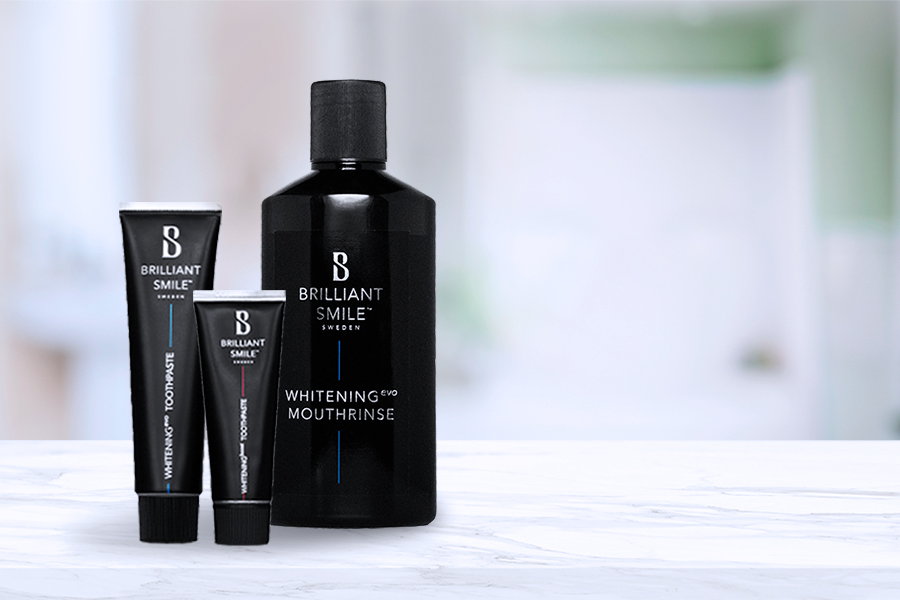 WHITENING ORAL CARE
TOOTHPASTE AND MOUTHRINSE WITH WHITENING
Brilliant Smiles whitening-series is oral care products with active
ingredients that dissolve superficial coatings and prevents new
stainings from sticking to the teeth. The series consists of three
products that help you to get a whiter smile:


Whiteningevo Mouthrinse - Mouthrinse with whitening
Whiteningboost Toothpaste - Intensive toothpaste
Whiteningevo Toothpaste - Protective toothpaste with whitening
•

  Effective protection against caries



•
  Strengthens the enamel and contributes to good oral health
•
  Prevents, nourishes and soothes sensitive teeth
•
  Prevents bad breath
•
  Gives you whiter teeth and counteracts new discoloration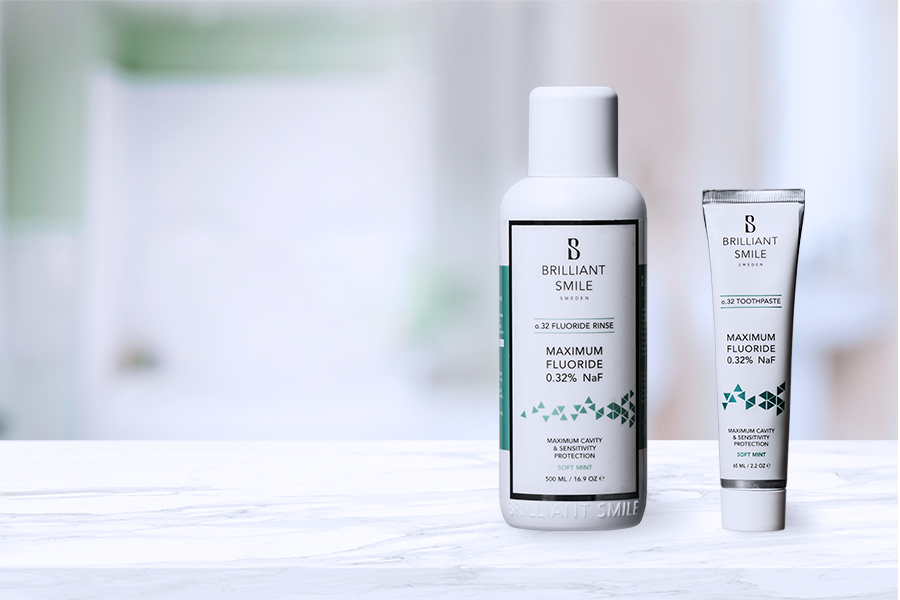 o.32 MAXIMUM FLOURIDE
MAXIMUM PROTECTION AGAINST CARIES AND SENSITIVITY
Brilliant Smile's o.32-series contains a maximum amount of fluoride and is
developed in collaboration with swedish fluoride researchers and dentists.
A charitable toothpaste and mouthrinse, which together provide the best
possible protection against caries and sensitive teeth. Both products have
a mild flavour of mint and are intended for everyday use.

o.32 Fluoride Rinse
- Protective mouthrinse
o.32 Toothpaste
- Nurturing toothpaste
•
  Contains maximum fluoride content, 0.32% NaF (1450 ppm F)
•
  Relieves and prevents tooth sensitivity and sensitive teeth
•
  Mild cleaning toothpaste that is free from SLS
•
  A mouthrinse completely free from alcohol
•
  Contains the maximum permitted non-prescription fluoride concentration,
    which provides more effective protection against caries and tooth sensitivity