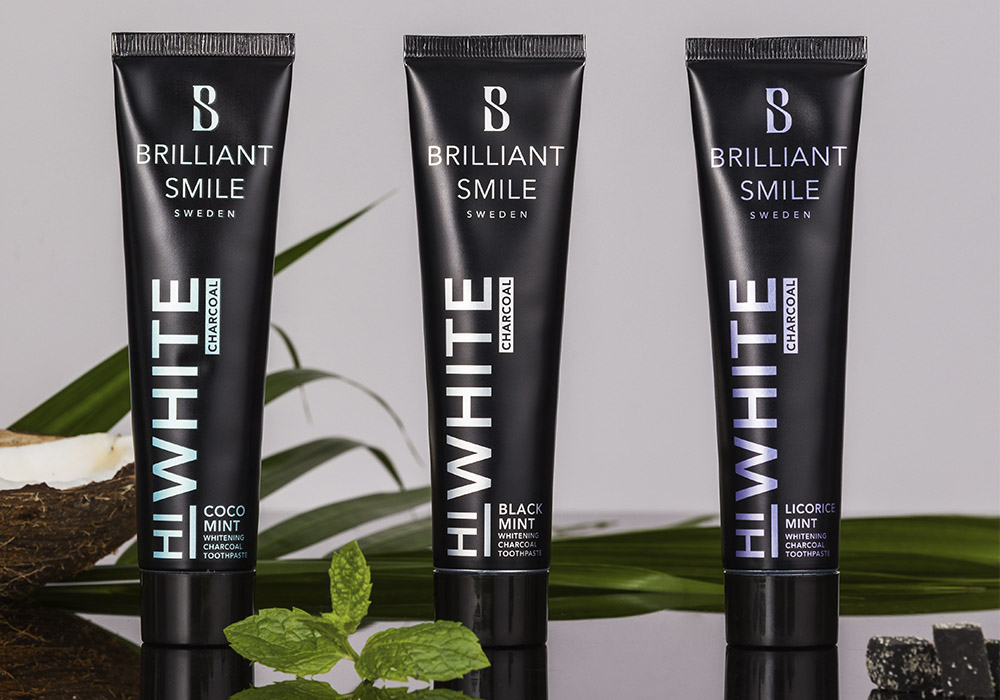 Brilliant Smile Sweden is launching HiWhite Charcoal, a whitening toothpaste series with activated charcoal. The first three flavors to be release are mint, coconut and licorice!
Brilliant Smile Sweden, known for its teeth whitening treatments and whitening oral care products, is now launching a completely new line of toothpastes that transforms the daily routine into a tastier experience!

Activated charcoal together with the effective Brilliant Smile whitening technology, nourishes and whitens the teeth. In addition, there will be three absolutely delicious flavors to choose from!
HiWhite Charcoal Black Mint is the toothpaste for the classic connoisseur, with a fresh mint taste that leaves you feeling refreshed throughout the day.
HiWhite Charcoal Coco Mint combines a delicious creamy coconut flavor with that refreshing mint taste you want from a toothpaste. The result is simply delightful!
HiWhite Charcoal Licorice Mint is a must-have for licorice lovers! The mint and salty licorice fusion provides both a yummy and refreshing sensation.
The toothpaste itself is black, but it makes the teeth whiter by dissolving surface coatings and stains from coffee, tea, tobacco and red wine. All Brilliant Smile toothpastes contain fluoride, to provide sufficient protection against cavities.

HiWhite Charcoal toothpaste, in flavors Black Mint, Coco Mint and Licorice Mint will be launched on the Brilliant Smile website, www.brilliantsmile.se:


Friday October 25th, at 10:00 am

As an introduction offer, you will be able to try all three flavors at the price of two.
-
The offer is valid from Oct 25th through Nov 17th, at brilliantsmile.se.
There are no comments to this entry.