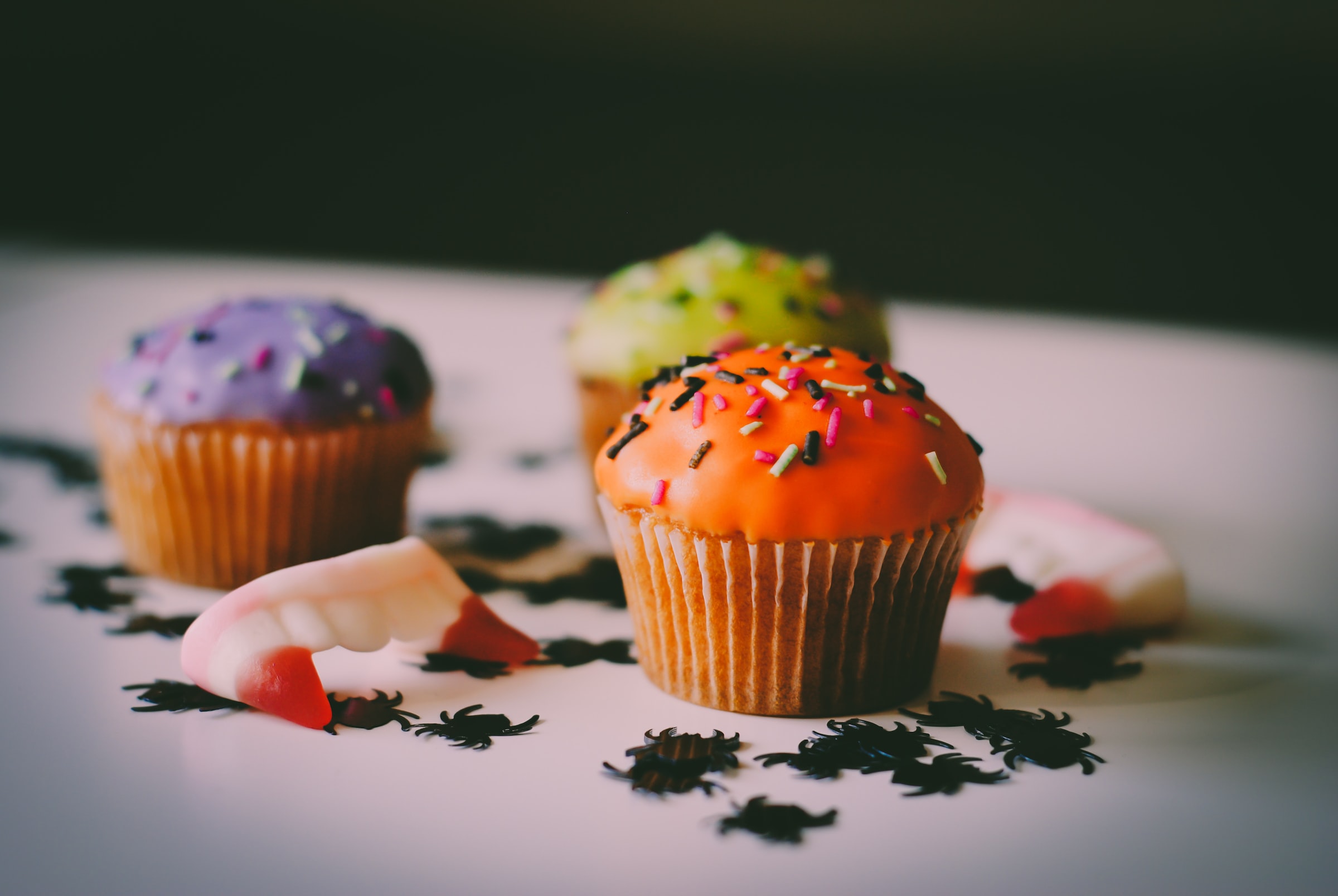 Reduce the risk of caries by eating all your treats at once. Read more about why in Brilliant Smiles blog post below.
Halloween is approaching and is celebrated in different countries around the world. One tradition, especially among children, is to dress up in ghost costumes and walk around the neighbourhood knocking on doors trick-or-treating.
The big question is, should you choose trick over treat? How harmful are sweets really to your teeth? 
Candy and sweets taste good because they contain sugar. The bacteria in our mouths love sugar and the caries bacteria's faeces, which is acidic and corrosive, can in turn lead to cavities in the teeth.
Sweets in particular can be particularly bad for our teeth as they are usually chewier and stick to the teeth more easily.
In addition, we have the ability to snack on sweets a longer time, which also exposes teeth to a prolonged caries acid attack.
So it's really not about how much candy we eat as it is about how long time we eat candy. So to reduce the risk of damage to your teeth, eat sweets quickly and at one time. You can for example reduce the acid attack even more by rinsing your mouth with a fluoride rinse, after eating sugar.
Fluoride is really effective against caries.
So a good idea if you choose treats on Halloween, is to rinse with Fluoride.
Click here to buy the most effective Fluoride rinse on the market
Spooky facts:
Archaeological findings show that caries is an ancient condition and has been found in skulls said to be millions of years old. 
Caries is one of the most common diseases in the world. It is estimated that 90% of the world's schoolchildren and most adults have had caries.
Really poor countries where the availability of sugar products is low and really rich countries where dental hygiene is good, are relatively free of caries. 
The amount of dental plaque over a long period of time can be a factor in the development of cancer, new research shows. It is therefore important to maintain good oral hygiene for both the individual and public health in general. However, more research is needed to confirm these results.* 
Poor oral hygiene can also lead to periodontitis (tooth loss), which is also caused by bacteria. It destroys both the gum tissues around the teeth and the jawbone itself. Periodontitis puts you at risk of many different diseases. These include an increased risk of heart attack and brain infarction, atherosclerosis and heart muscle inflammation.**
*Click here to learn more about how bad oral health is connected to cancer
** Click here to learn more about how bad oral health can affect your health negatively
There are no comments to this entry.